British letter writer to visit US killer on execution day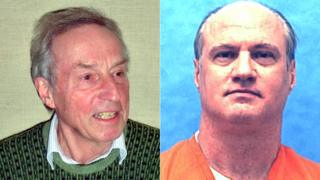 A British man who has written hundreds of letters to a US killer on death row is to visit him on his execution day.
Jan Arriens, 72, of Shropshire, said Mike Lambrix had been on death row since 1984 for murdering a couple in Florida and was to be given a lethal injection on 11 February.
Mr Arriens said they had written about 400 letters each since 1991 and it was going to be "ghastly to say goodbye".
He founded LifeLines, which supports prisoners on death row through letters.
Updates on this story and more from Shropshire
Mr Arriens, of Bishop's Castle, said Lambrix, 55, would be executed in Florida after exhausting the appeals process and he had "mixed feelings" about going.
He said: "It's not going to be easy, but I feel it's the least I can do after corresponding for 25 years.
"People often open up on paper in a way they don't necessarily in person.
'Able-bodied, healthy man'
"It's not something I particularly want to do... it's going to be a harrowing experience saying goodbye to someone I've known pretty well through letters and meeting him three times.
"An able-bodied, healthy man will be dead an hour or two after saying goodbye."
He said Lambrix would be allowed 12 hours of visits behind glass in his final week and he was hoping to see him twice. He will not be there at the moment of execution.
According to the Jacksonville Daily Record, Lambrix murdered a couple he had invited to his trailer for dinner.
He was accused of attacking Clarence Moore Jr when they were alone outside the trailer, then calling Aleisha Bryant outside, where she was kicked in the head and strangled.
Mr Arriens said Lambrix had stated he hit the man in self defence after finding Ms Bryant strangled.
He had maintained he was guilty of manslaughter, which would probably have resulted in a 15-year-sentence, but not of murder.
But the Florida state's version was that he killed both of the victims intentionally.
Lambrix's execution was the second already planned in the new year, even as the US Supreme Court considers a challenge to Florida's death penalty laws, the Miami Herald reported.
The 55-year-old prisoner would also be allowed an hour in a room with a few people of his choice on the final day, including Mr Arriens.
He said: "He's remarkably philosophical and accepting and his main concern is for those who are concerned about him, his friends and supporters."
Mr Arriens founded LifeLines after watching a TV documentary about an execution in 1987. It currently has 1,400 volunteers writing to people on death row.